JANU Signs a MOU on Exchange and Cooperation with UUK (October 28)
 On October 28, 2016, at the Gakushikaikan (Tokyo), the Japan Association of National Universities (JANU) held the signing ceremony for the Memorandum of Understanding (MOU) on Exchange and Cooperation between JANU and Universities UK (UUK).
 At the ceremony, JANU President Susumu Satomi (President, Tohoku University) and UUK President Dame Julia Goodfellow (Vice-Chancellor, University of Kent) signed the MOU. The signing ceremony was attended by five people from JANU: Vice President Kyosuke Nagata (President, University of Tsukuba), Vice President Sugata Takahashi (President, Niigata University), Vice President Juichi Yamagiwa (President, Kyoto University), Senior Managing Director Kenji Yamamoto, and Managing Director/Director-General Masato Kitani, and four people from the UK side: Joseph Taylor, Policy Manager in charge of Asia of UUK International (UUKi), Elizabeth Hogben, Head of the Science and Innovation Network Japan of British Embassy Tokyo, Matt Burney, Director Japan of the British Council, and Chika Takahashi, Head of Education of the British Council.
 This MOU sets the future direction for cooperative relations between JANU and UUK in the higher education field. Specific areas of cooperation include: 1) opinion exchange regarding higher education policy in both countries, 2) opinion exchange regarding a new scheme to enhance exchange of academic staff and students, 3) discussion about administrative staff exchange between JANU and UUK and between member universities of the two associations, and 4) opinion exchange regarding government funding that will allow for universities in Japan and the UK to create new institutional partnerships.
 After the signing ceremony, an opinion exchange was held. At the beginning, Vice President of Nagata gave an outline of JANU and national universities in Japan, and explained the current situation of exchange activities between universities in Japan and the UK. After that, an active opinion exchange took place between both parties on higher education in Japan and the UK and the possibility of future cooperation between JANU and UUK.
 It is expected that inter-university exchange between Japanese and UK universities will be more active. JANU will actively implement initiatives to further expand exchange with the UK, by strengthening cooperation with UUK.
---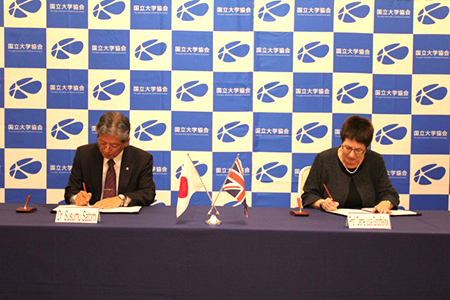 JANU President Satomi (left) and UUK President Goodfellow (right) signing the MOU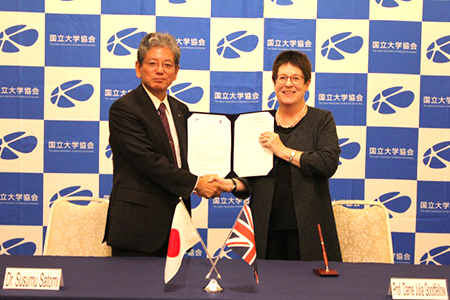 Commemorative photo after the signing ceremony
(JANU President Satomi [left] and UUK President Goodfellow [right])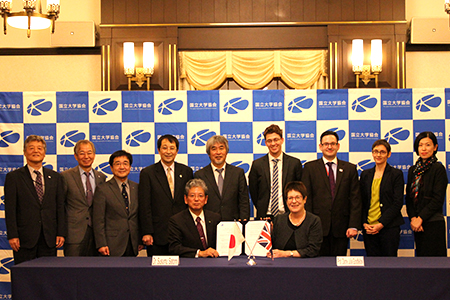 Group photo after the signing ceremony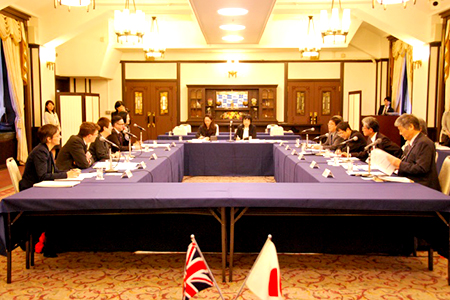 Opinion-exchange meeting (whole)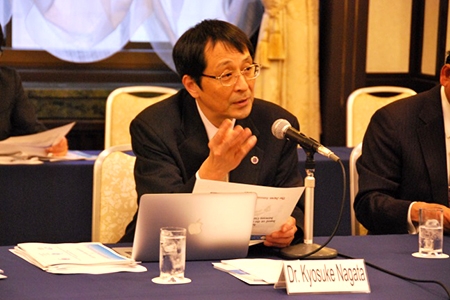 Vice President Nagata explaining JANU and inter-university exchange
between Japanese and UK universities