2021 Taiwan-Japan University Presidents' Virtual Forum "Moving Forward: Taiwan-Japan Academic Collaboration in the New Era Experiencing the Global Pandemic" held on November 18, 2021
 On November 18, 2021, the Japan Committee of Universities for International Exchange (JACUIE) and the Foundation for International Cooperation in Higher Education of Taiwan (FICHET) held the online international conference entitled "2021 Taiwan-Japan University Presidents' Virtual Forum 'Moving Forward: Taiwan-Japan Academic Collaboration in the New Era Experiencing the Global Pandemic.'"
 JACUIE signed an exchange agreement with FICHET in 2016, and this forum follows the exchange programs held in Tainan in 2016 and Hiroshima in 2018. This year's event was held online, focusing on how to promote cooperation between Japanese and Taiwanese higher education institutions in the future after the COVID-19 pandemic. One hundred thirty-two people, mainly presidents and vice-presidents, participated in the forum from 116 Japan and Taiwan universities.
 FICHET, the technical host, facilitated the conference.
 Opening remarks were made by Mr. Frank CT Hsieh, Representative of the Taipei Economic and Cultural Representative Office in Japan, Mr. IZUMI Hiroyasu, Chief Representative of the Taipei Office of the Japan-Taiwan Exchange Association, and Dr. Nicole Yen-Yi Lee, Director General of the Department of International and Cross-strait Education of Ministry of Education in Taiwan, referring to the strong collaboration between higher education institutions in Japan and Taiwan, followed by a speech by Prof. USHIKI Tatsuo, Chairperson of JACUIE (President of Niigata University). Prof. USHIKI stated that the forum's theme would be a meaningful one as it would enable the participants to reach a common understanding of the challenges that each university is currently facing and practical actions for a new phase of higher education and international cooperation beyond the pandemic era.
 After the Group Photos session, two sessions began.
 In Session 1, titled "Building resilience in universities in the new era triggered by COVID-19" and moderated by Prof. Neng-Shu Yang, President of National Yunlin University of Science and Technology, Prof. MATSUMURA Akira, President of Ibaraki Prefectural University of Health Sciences, gave a presentation on restarting the student exchange program with Kaohsiung Medical University by newly created the program online, which was temporarily suspended due to the COVID-19 pandemic. Prof. YASUI Toshikazu, President of Meikai University, made a presentation on the support for students to maintain their learning during the pandemic and the educational reform efforts triggered by COVID-19. From the Taiwanese side, Prof. Albert Wei-Min Tang, Dean of Office of International Education, Fu Jen Catholic University (substituting for President Han-Sun Chiang, who could not attend due to urgent business), and Prof. Han-Chieh Chao, President of National Dong Hua University, presented their case studies. Then followed a plenary discussion on the evaluation of learning in online education, and the possibilities and challenges of further shifting the current DX (Digital Transformation) of education to "metaverse" education using virtual space.
 In the following Session 2, titled "Collaborating between Taiwan and Japan to achieve university social responsibility and sustainability," under the moderatorship of Prof. SAKURAI Katsutoshi, President of Kochi University, Prof. MAKINO Hirofumi, President of Okayama University, presented a case study of his university's management efforts from the perspective of the SDGs. Prof. MORISHITA Tetsuo, Vice President for Global Academic Affairs of Sophia University, presented his university's efforts to promote sustainability by hiring "student staff." From Taiwan, Prof. Huey-Jen Su, President of National Cheng Kung University (Chairperson of FICHET), and Prof. Dong-Sing Wuu, President of National Chi Nan University, presented their case studies. Then followed a general discussion, in which the importance and methods of educating students about USR (University Social Responsibility) and the SDGs were pointed out, and examples of human resource development initiatives in regional areas and the establishment of a platform by Japanese and Taiwanese universities for regional development were presented. Thus, lively discussions took place in both sessions.
 In the closing remarks, Prof. TANIOKA Ichiro, Vice-Chairperson of JACUIE (Chancellor and President of Osaka University of Commerce), stated that the forum was significant as it provided an opportunity to share the experiences of each university amid the COVID-19 crisis and to discuss the university system in Japan and Taiwan actively. He also expressed hope that an in-person meeting would be held soon.
 Referring to the history of higher education cooperation between Japan and Taiwan, Chairperson of FICHET, Prof. Huey-Jen Su, stated that universities need to be actively involved in new topics such as the SDGs, USR, and the strengthening of industry-academia collaboration and that global issues can be addressed by strengthening the unity of Japanese and Taiwanese institutions based on their regional strengths and experiences, and also emphasized the significance of the participants coming together in this way despite the difficulties.
 After the meeting, a round-table discussion was held between the executives of JACUIE and FICHET to review the conference and to discuss future exchange programs and agreed to continue the exchange in the future.


【Case Study Slides】
Session 1

Session 2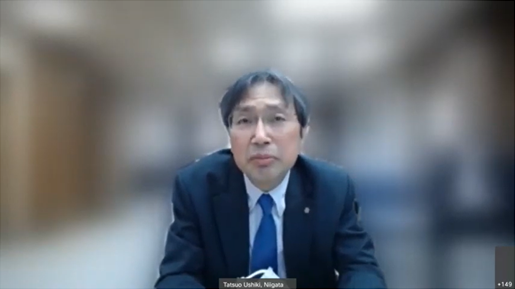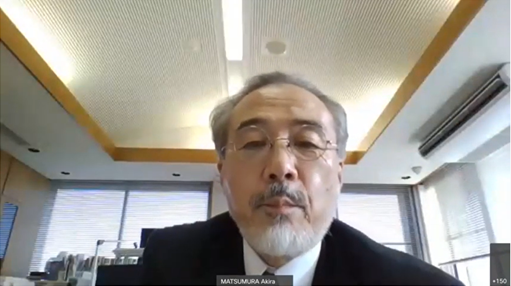 Prof. USHIKI Tatsuo, Chairperson of            Prof. MATSUMURA Akira, President of
JACUIE (President of Niigata University),     Ibaraki Prefectural University of Health
making the opening remarks                      Sciences, presenting the case study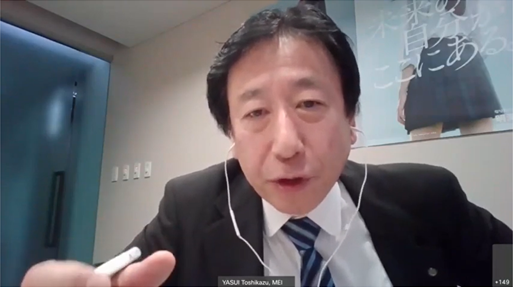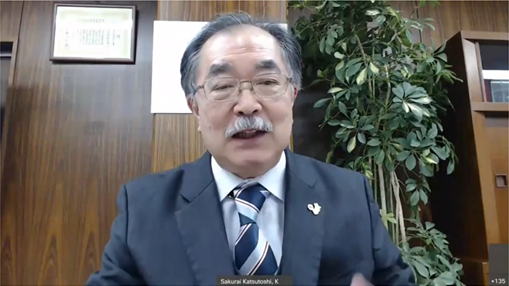 Prof. YASUI Toshikazu, President of            Prof. SAKURAI Katsutoshi, President of
Meikai University, presenting the case     Kochi University, the moderator of
study                                                       Session 2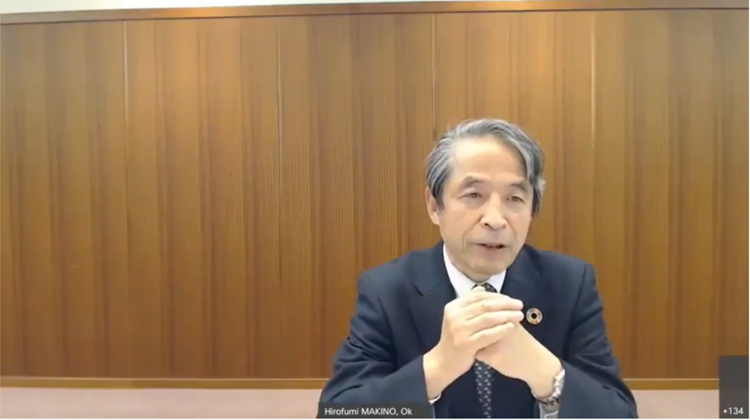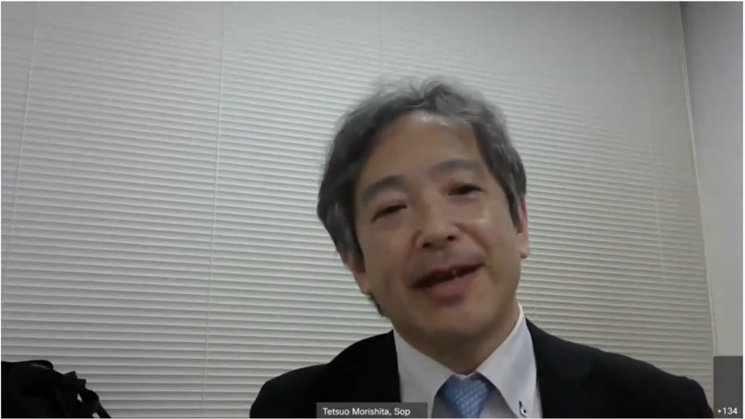 Prof. MAKINO Hirofumi, President of        Prof. MORISHITA Tetsuo, Vice President
Okayama University, presenting the case  for Global Academic Affairs of Sophia
study                           University, presenting the case study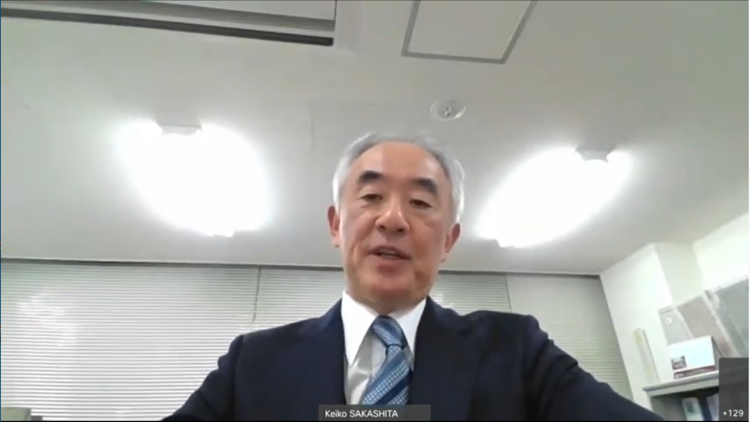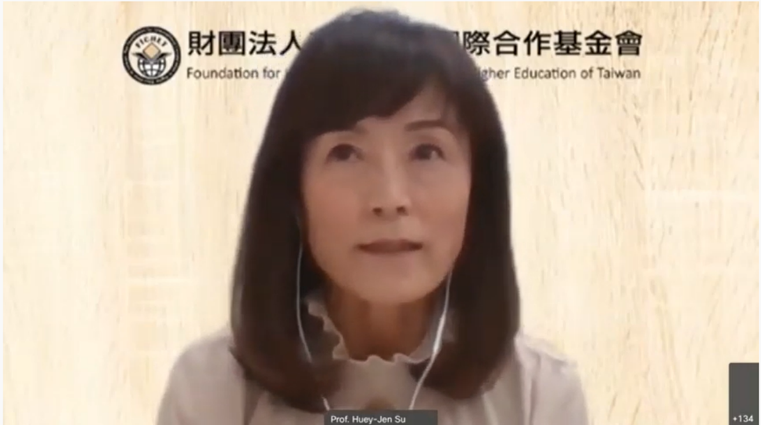 Prof. TANIOKA Ichiro, Vice-Chairperson       Prof. Huey-Jen Su, Chairperson of
of JACUIE (Chancellor and President of        FICHET, making the closing remarks
Osaka University of Commerce), making                      
the closing remarks