A Taiwanese University Association and Other Organizations Visit JANU (June 22)
On Monday, June 22, 2015, JANU exchanged opinions with the Foundation for International Cooperation in Higher Education in Taiwan (FICHET), a Taiwanese university association, and other organizations at Gakujutsu Sogo Center (National Center of Sciences), Tokyo. Participants discussed how to promote talks toward the holding of a Japan-Taiwan university presidents' forum and exchanged opinions on the status of academic exchange between the two countries.
In terms of bilateral student exchange, in fiscal 2013, the number of Japanese students studying in Taiwan stood at 1,534, while that of Taiwanese students studying in Japan was 4,719, according to a survey conducted by Japan Student Services Organization (as of May 1, 2013). Meanwhile, in the area of researcher exchange, a survey conducted by Japan's Ministry of Education, Culture, Sports, Science and Technology showed that 6,687 researchers were dispatched from Japan to Taiwan and 1,240 researchers came from Taiwan to Japan in fiscal 2013.
JANU is determined to step up its efforts to further expand bilateral exchange in the years ahead.
---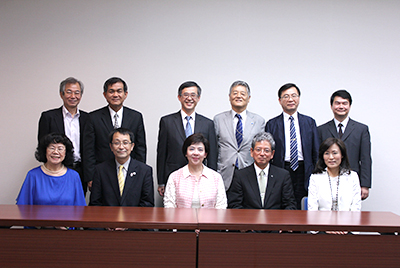 Group photo