President of E-JUST, Professor Ahmed Magdy El-Gohary and His Colleague Visit JANU (October 6)
 On October 6, 2016, the President of Egypt Japan University of Science and Technology (E-JUST), Professor Ahmed Magdy El-Gohary, and its Vice President, Professor Masaaki Suzuki, visited the Japan Association of National Universities (JANU) for an exchange of opinions.
 Representing JANU's International Exchange Committee, two expert members, Dr. Caroline Fern Benton (Vice President and Executive Director, University of Tsukuba) and Dr. Toshio Maruyama (Executive Vice President, Tokyo Institute of Technology) attended the meeting, in which Professor Takahiro Morio and Vice Executive Director, Yoshiaki Sato also participated representing the University of Tsukuba. Other participants included Mr. Shinya Takeuchi, Senior Officer (international affairs) attached to the Minister's Secretariat at the Ministry of Education, Culture, Sports, Science and Technology; and Mr. Atsumu Iwai, Chief Advisor of the Japan International Cooperation Agency (JICA).
 At the beginning of the meeting, President El-Gohary explained various issues including the outline of the Association of Arab Universities (AArU) and activities currently undertaken by the association. After that, opinions were exchanged on the present situation of universities in the Middle East, the challenges they face and their plans for the future.
 JANU is determined to promote further efforts to expand bilateral exchanges in the years to come.
---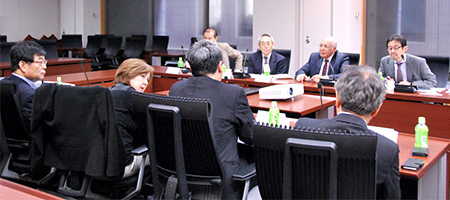 Participants exchanging opinions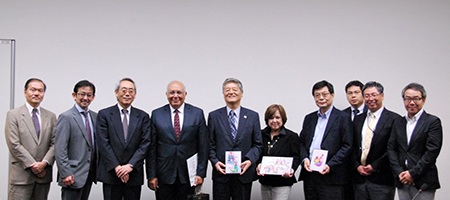 Group photo of meeting participants