Message from the President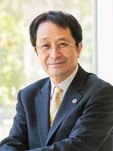 President NAGATA,Kyosuke (President, University of Tsukuba)
 In our increasingly globalizing world, there are many global-level issues related to the environment, energy, food, etc.  In Japan, we are facing, ahead of the rest of the world, a falling birthrate, an aging population, and a shrinking labor force.  It is difficult to resolve these issues based only on past experience.
 There are 86 national universities in Japan, each with their own unique characteristics.  At these universities, approximately 60,000 faculty members are involved in educating over 600,000 undergraduate and graduate students, while individually pursuing their own unique research.  This diversity is the source of our ability to flexibly handle the increasingly complex and ever-changing future that cannot be extrapolated from the past.
 Located in every prefecture and metropolitan area, Japanese national universities have played a central role in regional revitalization through developing innovation and nurturing top-class graduates.  The national universities are the core entities for supporting their respective region's culture, society and economy, and are keenly aware of their responsibilities towards their region's industry, medical care, welfare, and education.  Against the backdrop of the above-mentioned paradigm shift, regional development has become one of Japan's most dire challenges.  We, the Japan Association of National Universities, believe that it is our duty to respond to the heightened expectations placed on us.
 The capability of human resources can be represented by the product of the number of members and their ability.  Because the population in Japan is decreasing, it is necessary to improve the ability of individuals in order to improve the capability of human resources.  Specifically, this can be realized by enhancing the quality of education at universities and uncovering and developing talent that has not yet been discovered.  To this end, it is indispensable to review the entrance examination system and content of education.  This is a task which each university must work on in its distinctive manner.
 The strength of national universities in human resources development is education based on excellent research.  Talented doctoral human resources with deep expertise, practical skills and a broad view are globally desired.  This is because they will bring about innovation in various fields to lead society.  In view of this present situation, it is an issue to be solved that the proportion of master's degree recipients and doctoral degree recipients in Japan is lower than in other countries (the former is approximately  one third, while the latter is approximately one half).  Each national university is required to improve its graduate education programs by taking advantage of its respective characteristics.  In addition, effort in various areas of society is needed – for example, master's and doctoral degrees recipients should receive fair evaluation in companies, and the economic support should be enhanced so that graduate students can concentrate on their coursework.
 For national universities to play this important role, each national university must make full use of their unique advantages, while, at same time, work together as a whole to bring forth and ensure a bright future for our society.  It is important that all 86 national universities unite in their support of each region and the nation, as well as work a long side with our fellow international partner institutions on a global scale.  It is the mission of the Japan Association of National Universities to support these goals.
 In 2020, the Japan Association of National Universities celebrates the 70th anniversary of its founding.  We look forward to and are grateful for all your continued support for national universities and the Japan Association of National Universities.