JANU and UA Hold Joint Japan-Australia Short-term Staff Exchange and Training Program (Nov 26-Dec 4)
 From Thursday, November 26 to Friday, December 4, 2015, the Japan Association of National Universities (JANU) and Universities Australia (UA) held a joint bilateral short-term staff exchange and training program: "Japan-Australia Higher Education Knowledge Sharing Program 2015". During the program, the first to be conducted under the Academic Links Agreement (*) signed by JANU and UA in September 2015, 13 administration staff members from Japanese national universities and two JANU staff members visited universities and other institutions in Australia.
 The program aimed to support the development of partnerships between Japanese and Australian universities, deepen understanding about international activities at universities in Australia, and promote internationalizing the operations of member universities of JANU and UA. Participants in the program visited five universities and received briefings from relevant institutions such as UA and the Australian Government Department of Education and Training.
 Next fiscal year, administrative staff from Australian universities are planning to come to Japan. These exchange opportunities are expected to further promote bilateral exchanges between Japanese and Australian universities.
[Program Schedule]
Canberra

November 26(Thu)

– Visit the Australian National University

– Receive briefings from Universities Australia, the Australian Government Department of Education and Training, and the Department of Foreign Affairs and Trade

November 27 (Fri)

– Visit the National Science and Technology Centre (QUESTACON)

– Visit the Embassy of Japan in Australia

Sydney

November 30(Mon)

– Visit Macquarie University

December 1 (Tue)

– Visit the University of Sydney

December 2 (Wed)

– Visit the University of New South Wales

December 3 (Thu)

– Visit the University of Technology Sydney

– Receive a briefing from Higher Ed Services

December 4 (Fri)

– Wrap-up meeting
[Program Scenes]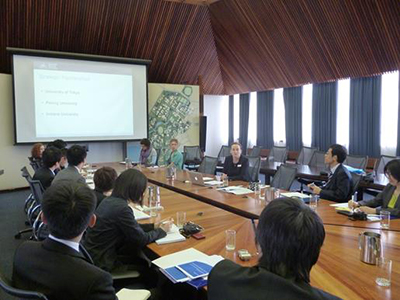 Visit to the Australian National University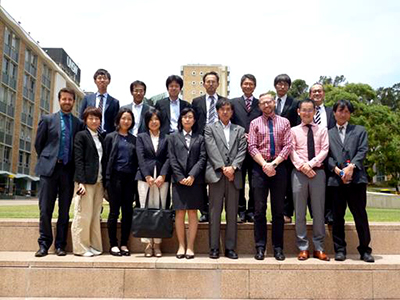 Visit to the University of New South Wales
[Related Article]