Japan Committee of Universities for International Exchange (JACUIE)
The Japan Committee of Universities for International Exchange (JACUIE) is established as opportunities to discuss equally among the national, public, and private university associations in Japan. The purpose is to correspond positively as one unity over the framework of national, public, and private universities, in response to the increasing requests from overseas university associations regarding the inter-university exchange etc. between universities in Japan and foreign countries.
Based on the aim to further develop international programs of each university association, JACUIE is composed of total 6 members from the following associations – 2 members from each association including the representative of international exchange committee etc. at each association. (A Chairperson and a Vice-Chairperson of International Exchange Committee of the Japan Association of National Universities (JANU) are members of JACUIE.):
・

The Japan Association of Public Universities (JAPU)
・

Federation of Japanese Private Colleges and Universities Associations (FJPCUA)
JANU serves for JACUIE as its secretariat based on the Outline on the Establishment of JACUIE. The above three associations collaborate in organizing bilateral presidential forums and symposiums with overseas university associations through the framework of JACUIE.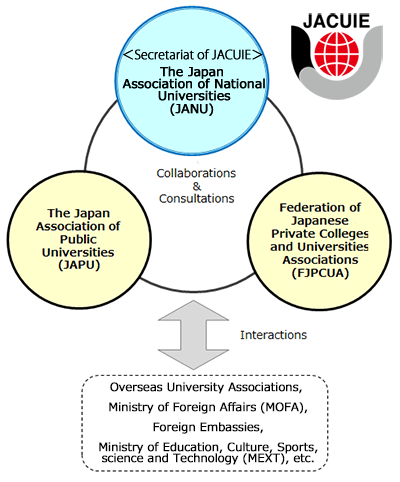 【Past related news on the above programs】